MYANDORI Minecraft Server
Welcome to MYANDORI Minecraft server!
We all love Minecraft, so here's the server for all the Minecraft & BanG Dream! lovers gather.
This Minecraft server is only opened to the members of MYANDORI, and it is for Java edition so you can only connect from Java edition and not any other editions like Bedrock or Educational. Please drop your in-game username in the #minecraft-channel channel located under GAMES category in MYANDORI Discord server so that we can add you to the list of players allowed to join the server. Please be ready to join the server when we're adding you into the list because sometimes there are issue with UUID not matching username and other stuff so we need to check the log for the actual UUID at time of join attempt to properly add you into the list.
Once you have been added to the list, you can join using the following details:
Address: mc.myandori.com
Port: 25565
Version: 1.18.2 (no mods needed, join from any launchers)
Server Map
The map of the Minecraft server can be seen from the following link:
https://mc.myandori.com/
For the map of rail transportation, the main rail lines that are operational, under construction, or awaiting aproval can be seen from the image below.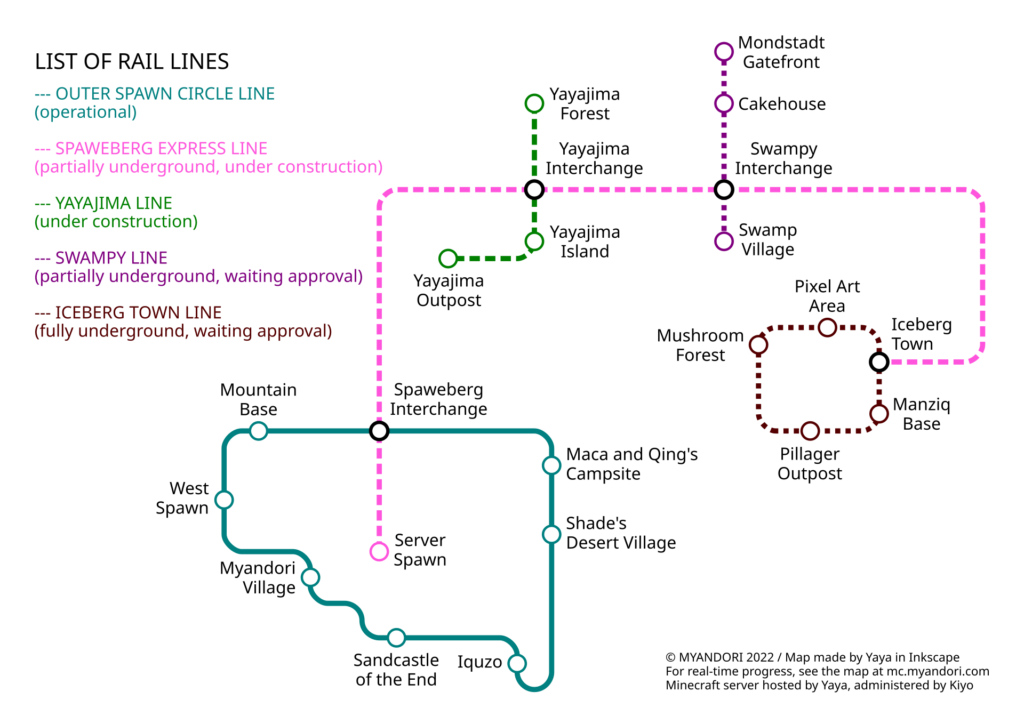 MYANDORI Minecraft Server team
Host
Host is the people who pay for the VPS server where Minecraft server is running on.
Server Access
Server access is the people who have direct access to the Minecraft server backend, able to upgrade the Minecraft version, installing new plugins, manually allow or banning players, checking vandalism, doing backups, and more.
Yaya (MNH48#0048)
Sheng (sheng#2210)
Administrator
Administrator is the people who oversee the whole Minecraft server and defining the rules or making plans around the server.
Operators
Operators, or OP for short, is the people who can change many settings of the server using in-game commands, including to whitelist new players, setting ingame time for easier building, using WorldEdit, adding places to the online map, changing player's game mode, and more. OP also can set up and use command blocks whenever needed.
Kiyo (kiyopingin#7424)
Nachi (nachi#2910)
Manziq (AimanHaziq#4625)
Ransyad (Ransyad#9336)
Yaya (MNH48#0048)
Shiori (shiori-n#0130)
Tehnical Details
The Minecraft server is running using PaperMC, it uses some Bukkit and Spigot plugins but it is able to be connected from vanilla Java client as well because there's no new blocks being introduced by the use of the plugins. 4GB RAM is allocated off the total 8GB RAM on the VPS server specifically for the Minecraft server to run with, and the Minecraft server can use any of the VPS server resources as needed such as the 4 virtual processors. The VPS server itself is running on Debian operating system and shared with a few other programs including nginx web host and PHP processors.
List of plugins installed (listed in alphabetical order)